Regular price
Sale price
$31.99 USD
Unit price
per
Sale
Sold out
Bold. Nourishing. Rich.   
Not your typical Miso broth! 
With the signature blend of 3 types of aged miso sourced from Japan, we were able to add exceptional depth in the broth. The addition of black garlic oil will further elevate your taste buds, which will keep you wondering how to get more. 
2 servings of soup base, 2 servings of fresh noodles, 4 packets of tender pork chashu, 4 packets of corn, 2 packets of bamboo shoots , 2 packets of black garlic oil, 2 packets of seaweed 
Fresh for 5 days refrigerated, up to 1 year frozen
**Allergen Notice: Soy, Wheat**
**Eggs & Green Onions Not Included**

Ingredients- Noodles (Wheat Flour, Water, Wheat Gluten, Kansui) Soup Base (Water, Soybean Paste, Sugar, Salt, Soybean Oil, Vinegar, Soy Sauce, Nonfat Dried Milk, Roasted White Sesame Paste, Crushed White Sesame Seeds, Roasted Black Sesame Seeds), Pork Chashu (Pork, Water, Soy Sauce, Mirin, Rice Wine, Vinegar, Seasonings), Bamboo Shoot (Bamboo Shoot, Water, Soy Sauce, Salt) Corn, Seaweed, Black Garlic Oil (Palm Oil, Garlic)
Share
View full details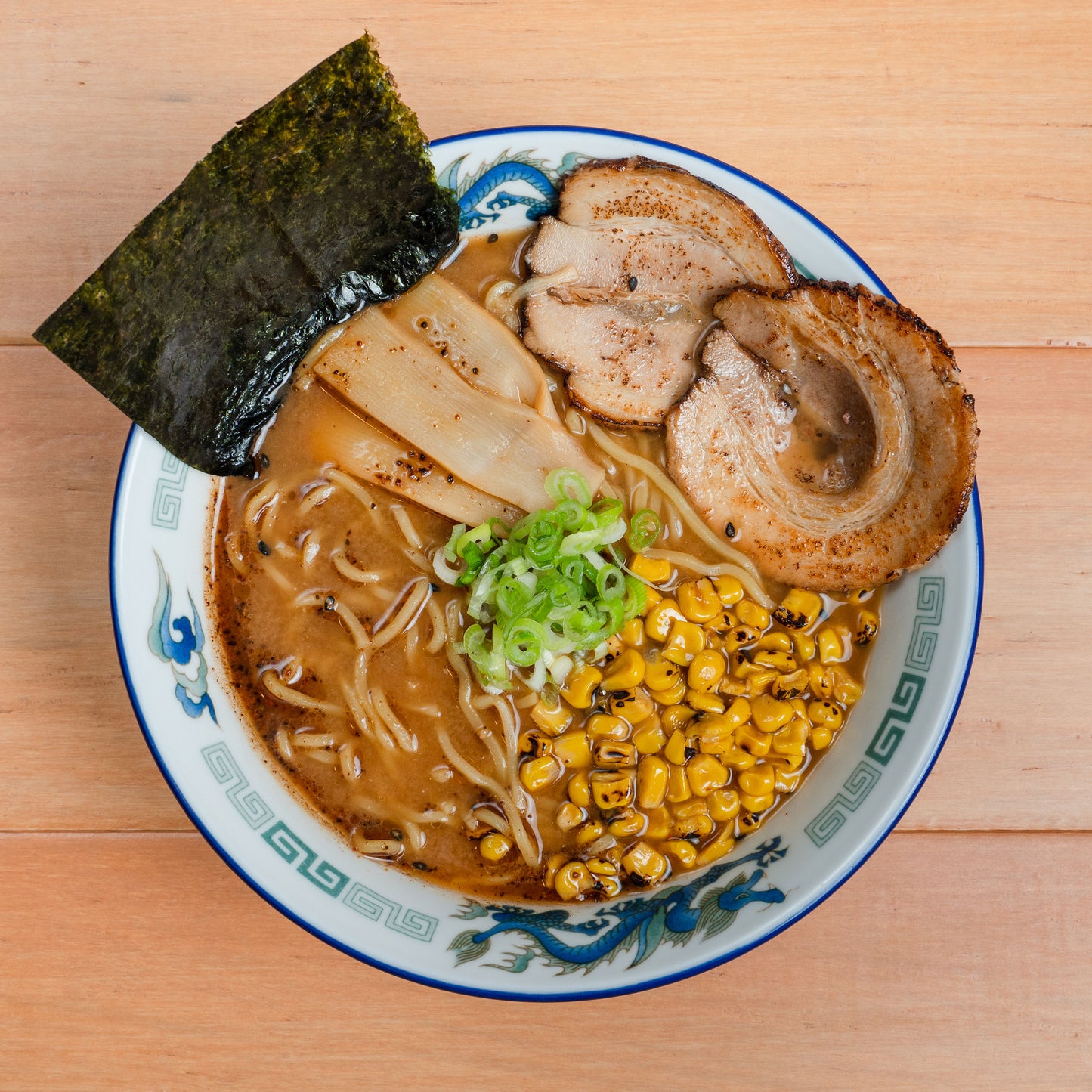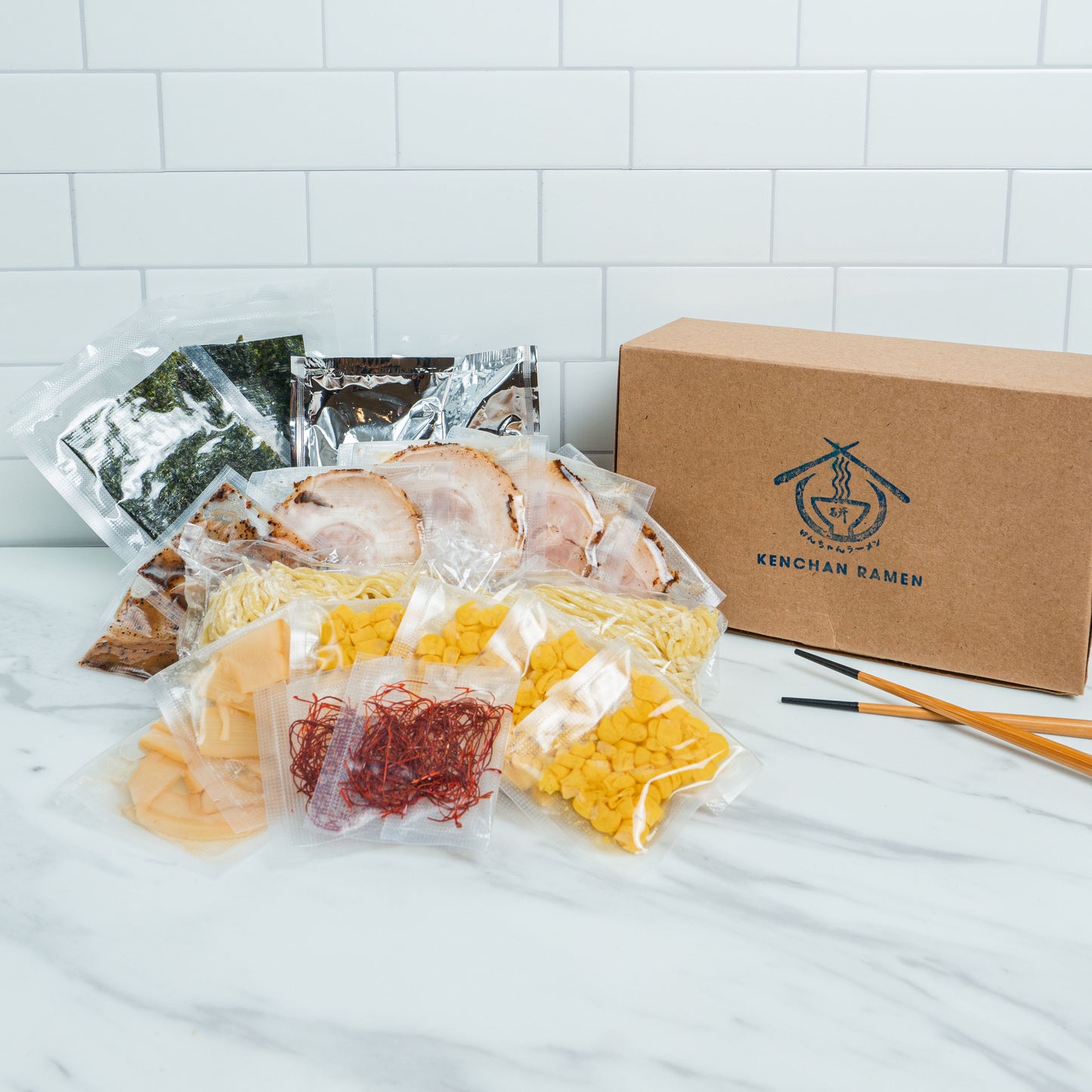 Amazing at home ramen
These ramen were really good for at home experience. Definitely comparable to ramen at a restaurant. The only thing I would do differently is buy extra noodles. My teenage boys thought the servings were a bit short on noodles. Will definitely buy again!
Authentic as it can get
It's so hard to find good Miso Ramen in LA, but this definitely reminds me of the Miso Ramen I ate in Japan! Great rich miso flavor broth and also come with some really fresh noodles, different from the instant ramen noddles you find at supermarkets. Far exceeded my expectations and would 100% recommend! Also comes with plenty of toppings including Chasu and my favorite marinated boiled eggs
简单快捷又美味
自从在家工作后就经常从超市买日本拉面吃,因为想要简单便捷的午餐,但是一般的超市包装拉面都没有配料(图片好看但是真正做出来跟包装一点都不像)。自从尝试过kenchan ramen 像打开了新世界,哈哈 简单快捷又美味的一餐(还新鲜)不再难实现。希望kenchan ramen很快可以在更多地方买到!
Truly Japanese Ramen Taste
I'm from Japan and this ramen is real taste of Japanese Ramen and so much tasty.
When I found this ramen at Mar Vista Farmer's Market, to be honest, I didn't trust it. It's because, many of ramen place in LA are not having a real taste.
However, this ramen has very good flavor, easy to cook, taste, and most interest thing is everything is included, even green onion!! That makes much easier for who are not familiar with Japanese ramen.
This kit is so convenient, and I always buy one kit, when I go to that Farmer's Market.
AMAZING
At first, the idea of a ramen "kit" sounded strange. I mean, ramen is really only good the minute it's served to you. (Ramen to go? No way). But Kenshi hits it out of the park with his broth, his noodles, his eggs, his char shu. The ramen kits contain 2 servings which makes it a perfect "Netflix and Chill" dinner option. Vegan? Fear not! He's got you covered with White Truffle Mushroom. Personally, the original miso is my favorite, but they're all darn good!