Regular price
Sale price
$31.99 USD
Unit price
per
Sale
Sold out
Hot. Peppery. Savory. 
A cool spice mix with all the heat without losing the miso punch!
The zesty broth has a sharp spice that cuts through your palette, but rounds out while slurping your noodles, leading to the undertones of miso and crisp broth. The balance of the artisanal miso blend and spices is not something you want to miss out on.
2 servings of soup base, 2 servings of fresh noodles, 4 packets of tender pork chashu, 4 packets of corn, 2 packets of bamboo shoots , 2 packets of black garlic oil, 2 packets of seaweed, and 2 packets of chili thread
Fresh for 5 days refrigerated, up to 1 year frozen
**Allergen Notice: Soy, Wheat, Fish (Bonito)**
Ingredients- Noodles (Wheat Flour, Water, Wheat Gluten, Kansui) Soup Base (Water, Soybean Paste, Sugar, Dried Bonito, Salt, Soybean Oil, Vinegar, Soy Sauce, Roasted White Sesame Paste, Spicy Sesame Oil, Roasted Black Sesame Seeds) Pork Chashu (Pork, Water, Soy Sauce, Mirin, Rice Wine, Vinegar, Seasonings), Bamboo Shoot (Bamboo Shoot, Water, Soy Sauce, Salt) Corn, Seaweed, Chili Threads, Black Garlic Oil (Palm Oil, Garlic) 
Share
View full details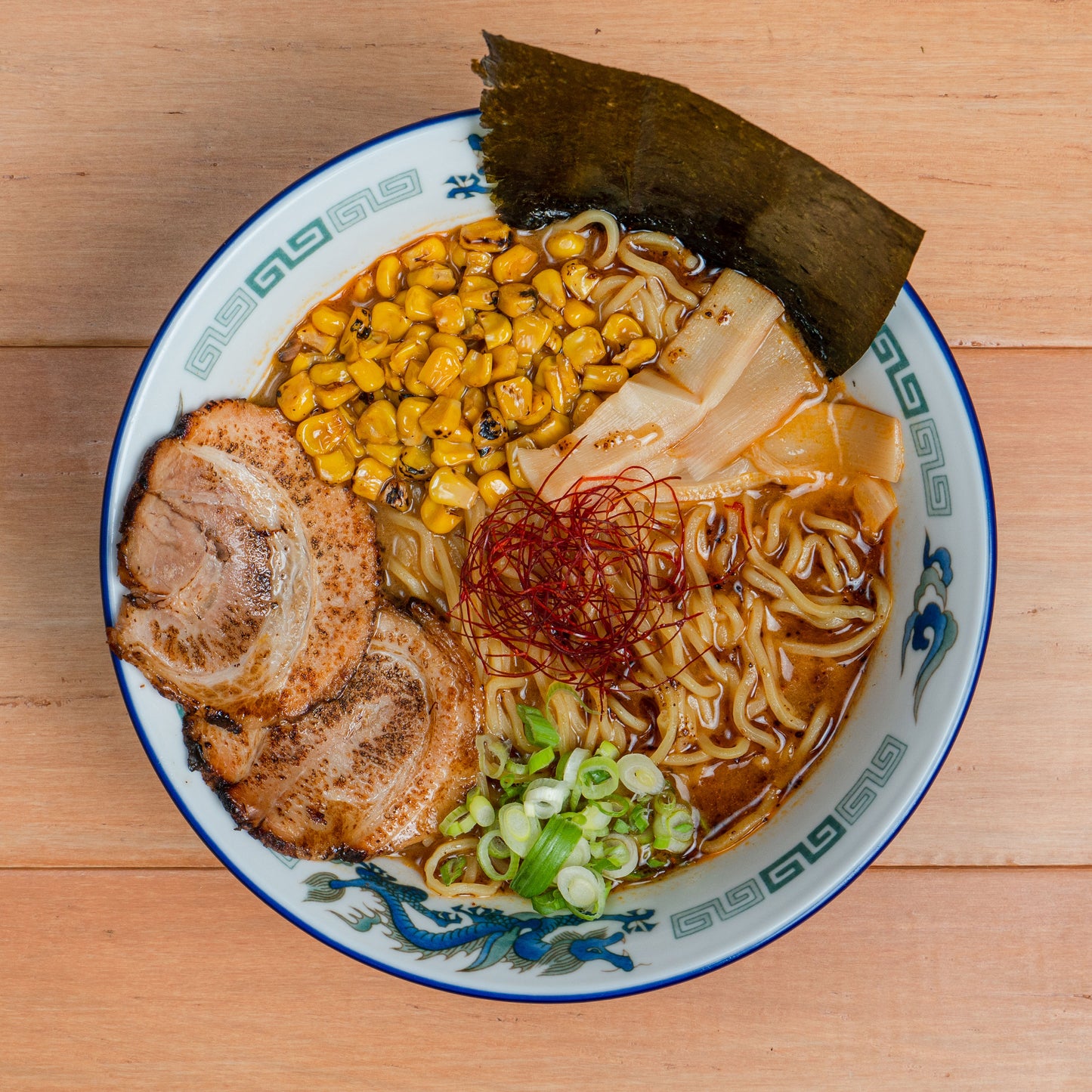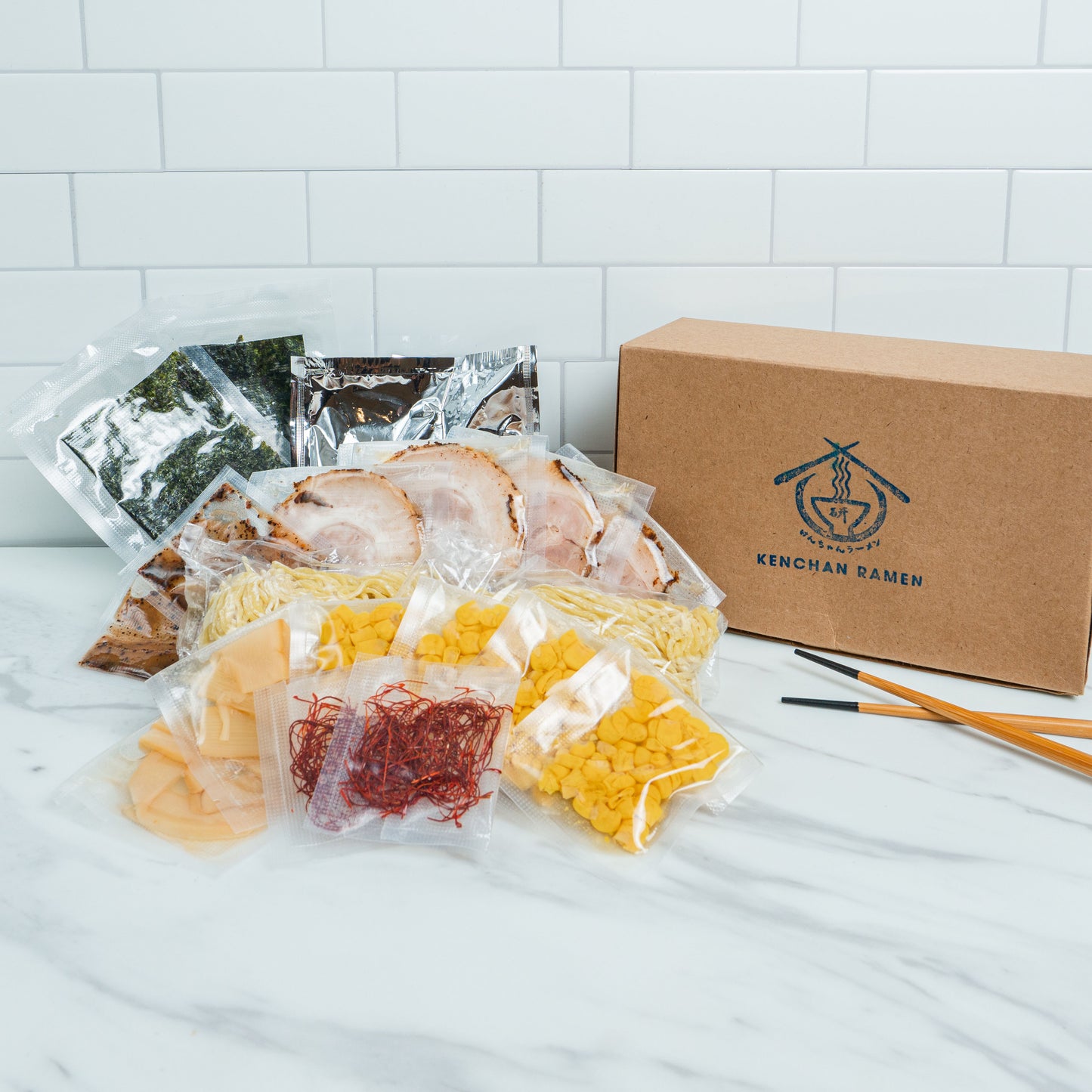 Great tasting ramen
First time buying ramen kits for delivery. Would order from them again. Only issue is the cost.
But great tasting for sure.
Wish they were local
This ramen was great! Very tasty and easy to prepare. I fixed 2 servings and ate them both. The noodles were PERFECT. So was the broth. The only 2 cons - so much packaging to get it to me cold - if they were local I'd pop down and do take out -
2nd con was the spicy seasoning in the flat plastic container was difficult to remove - I love spicy and hated to leave any in the packaging
Tasty
Tasty ramen. Easy cooking instructions. Responsive and friendly to emails. Will be purchasing again.
Perfect meal for a hot summer evening!
I love ramen. I love Kenchan Ramen, but in the heat of the Los Angeles summer, traditional ramen can be a tough sell. It might seem counterintuitive, but enjoying hot, spicy broth is the perfect antidote to 100 degree weather. And this Spicy Miso ramen is just the ticket.
If you haven't had the pleasure of meeting Kenshi personally, make the trek to one of his weekly farmer's market. You'll learn a great deal from my favorite Ramen Master. And if you can't, by all means, have it shipped to you.
You can thank me later.
SPICY MISO
Unassuming and inviting...
I stopped by the Studio City Farmer's Market with intentions to pick up fresh pastries then as I was casually strolling by...
...the tall man behind the stand sensed my casual stroll and lured me to try their frothy hot soup bases.
Well, bend my arm but if you offer me frothy hot broth on a whispy chilly morning, why we'll I'll say, "Yes, please..."
I was instantly sold with their famous miso broth.
I liked their clearer white truffle broth.
But he landed me with the sample of the SPICY MISO!
He made it irresistible when he said I can mix and match the two serving kit with 1x of their famous "miso" broth and mix that up to get the 2nd pouch to be the "spicy miso."
You know they've done a good job when you buy their product without any intentions of doing so.
A perfect Farmer's Market experience.