Regular price
Sale price
$32.99 USD
Unit price
per
Sale
Sold out
Spicy. Creamy. Hearty. 
The spicy tonkotsu broth that you love that is slowly simmered over 16 hours with a splash of shoyu base and spicy garlic chili oil to complete the fatty yet silky full-bodied broth. Most people associate tonkotsu with a very thick, heavy, and fatty broth. Kenchan's unique approach to the spicy pork bone broth finds a medium between the hearty pork and refreshing shoyu to keep you on your toes
2 servings of tonkotsu soup base, 2 servings of fresh noodles, 4 slices of tender pork chashu, 2 packets of pickled mustard greens, 2 packets of bamboo shoots, 2 packets of corn and 2 packets of crunchy garlic chili oil. 
Fresh for 5 days refrigerated, up to 1 year frozen
**Allergen Notice:  Soy, Wheat**
**Eggs & Green Onions Not Included**
Ingredients- Noodles (Wheat Flour, Water, Wheat Gluten, Kansui) Soup Base (Water, Pork Extract, Salt, Soybean Oil, Sugar, Chicken Broth, Soy Sauce, Vegetable Extract, Yeast Extract, Shiitake Powder, Kombu Powder) Pork Chashu (Pork, Water, Soy Sauce, Mirin, Rice Wine, Vinegar, Seasonings), Pickled Mustard Green (Mustard, Soy Sauce, Salt, Tumeric) Bamboo Shoot (Bamboo Shoot, Water, Soy Sauce, Salt) Corn, Seaweed, Spicy Crunchy Garlic Chili Oil
Share
View full details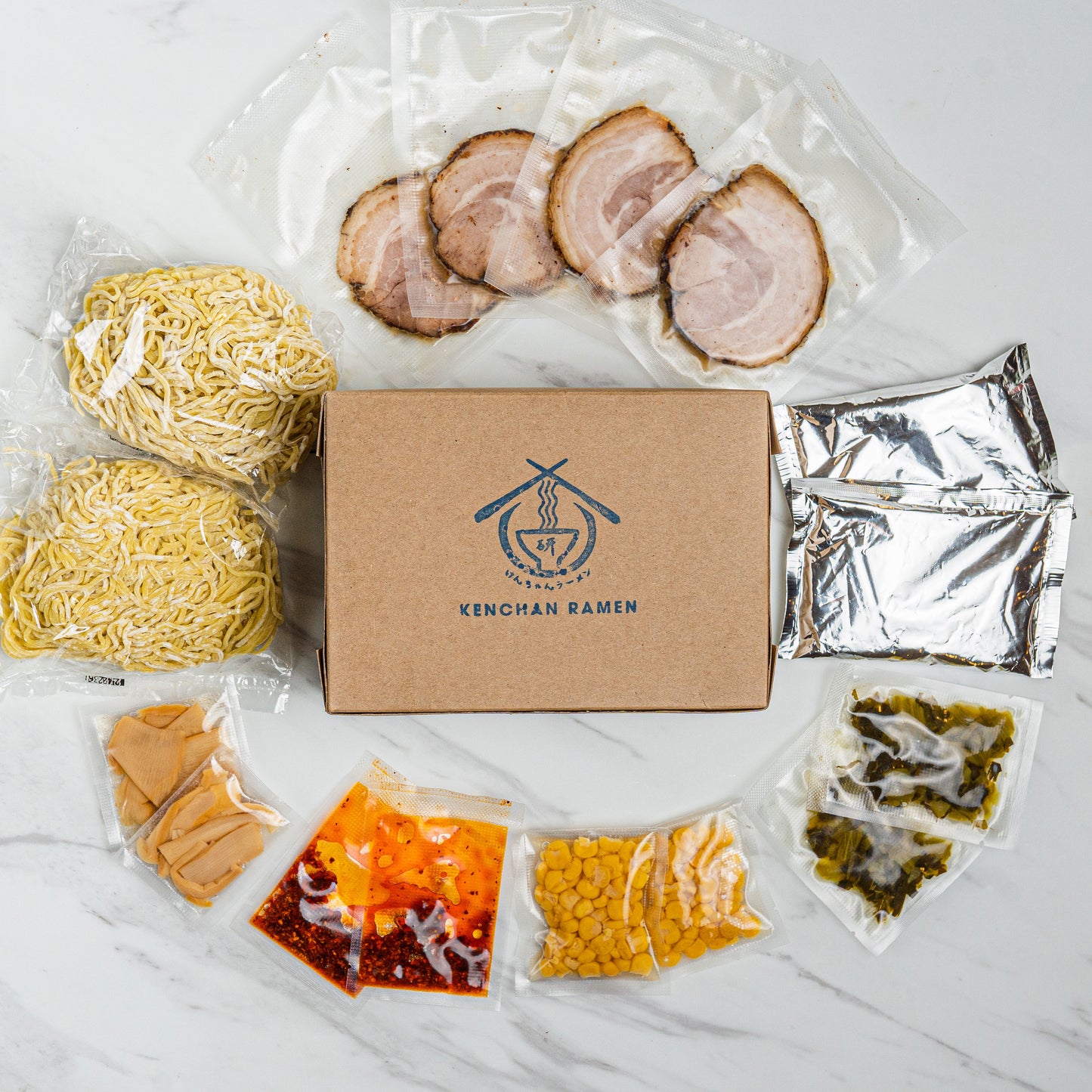 So happy to find!
Thank you for making this deliciousness available to everyone everywhere! We used to order from a restaurant in NYC that is unreliable with shipping as well as packaging. Thankfully you are here to save us with your packing skills to summery Palm Springs in the summer! The spicy tonkatsu was very delicious and we just slurped it down for lunch. We hope to see it in stock when it's time to replenish our supplies!
FANTASTIC
This was exactly what we've been looking for in a make at home kit for Ramen. It was easy to prepare and had a FANTASTIC taste. The portions were plentiful and the ingredients were top shelf. It was very close to what we get at our local restaurant. It would be great if you could keep it as a part of your regular menu items and not for a limited time.
Better then the local shops.
I can't say it's the best ramen I've had in my life, Few things can match up to what you get in Japan, but with that said, this is far better then what you find in some of the local ramen houses in the south.
Yum!
We really love the Spicy Tonkotsu Kit. It's got just the right amount of spice and is super flavorful. We really hope this becomes a permanent fixture at Kenchan but right now it is listed as available for a "limited time only" so you had better get it now while you can! Yum!